Customers and potential customers always ask us how is a Sandblast Sign made. Well we make a lot of San Diego Sandblast Signs, so thought we would just show you. As they say, a picture is worth a thousand words.
Step One – The making of a sandblast sign
Here we start with redwood or cedar strips cut to length and then we glue and laminate them together and hold with clamps overnight. We then have to run the new sign plank through a plainer to get a clean really smooth finish on both sides.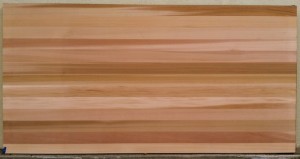 Step Two – The making of a sandblast sign
The panel is now ready for the computer cut sandblast resist tape. The graphics are cut on computer on this very thick adhesive tape and applied to surface with a roller for adhesion. Now the sign is ready for the fun part, sandblasting.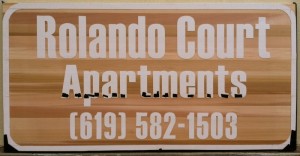 Step Three – The making of a sandblast sign
The wood is now blasted with a granular material at very high pressure. This is the process called sandblasting and provides a very rich look blasting out around the letters and graphics to accentuate the wood grain. The graphics and border are still flush with surface.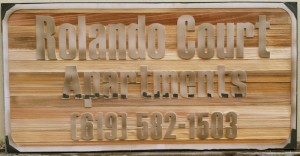 Step Four – The making of a sandblast sign
Several coats of primer are now applied to the redwood on both sides for proper paint adhesion. In this case, the customer wanted the whole sandblasted sign San Diego painted. Other times we will simply stain the background to keep the gorgeous wood revealed. At this stage we then peel the sandblast resist tape and will finish priming the letters. This tow step process allows for a cleaner sign without build up around the letters and borders.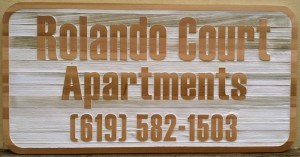 Step Five – The making of a sandblast sign
The first coat of an oil based paint (no lead) is applied to the background area and this sandblast sign is taking shape. In this case a burgundy color was chosen as the background. Burgundy paint is very translucent, so we apply two coats for longevity. The paint on the letters is simply wiped off at this stage so that the final coat will be very clean without build up.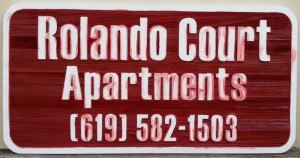 Step Six – The making of a sandblast sign
After a thorough drying the final coats of paint are applied to the lettering and graphics meticulously. This completed sandblast sign is now ready for install. Although computers are used to cut the graphics, sandblast signs are very much handcrafted and this is what makes them a very rich looking San Diego business sign.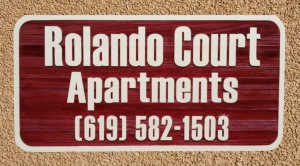 Also please take a look at our San Diego business signs.